Today is a day we are celebrating another milestone. We are proud to announce that 500th Click board™ is brought to light. Say hello to Smart Buck click.
A little bit of history
First click board™ was released back in 2011. Its name was "EasyGPS - mikroBUS™ version" and the first two pieces were sold in Denmark and Russia. Since then the Click boards™ portfolio is expanding unstoppably. When Click boards™ were just in the mind of our CEO, he was dreaming to create something that will significantly shorten the period of development and make a life of engineers easier. Something that will leave them only with the core task of their project without unnecessary steps.

One of Mikroelektronika's motto is: "We sell time we make engineers". We believe that Click Boards™ are a great example of this. Using external modules and sensors has never been easier. With our portfolio of 500 Click boards™ it is highly unlikely that you won't find something for your project, but in case there is, you may expect it in the close future because we're not stopping here.
What is the mikroBUS™ standard?
Mikroelektronika is one of the first companies in the world with its own standard that is at the same time supported with so many different peripherals. For some of you that are not aware of what mikroBUS™ really is, please continue to read.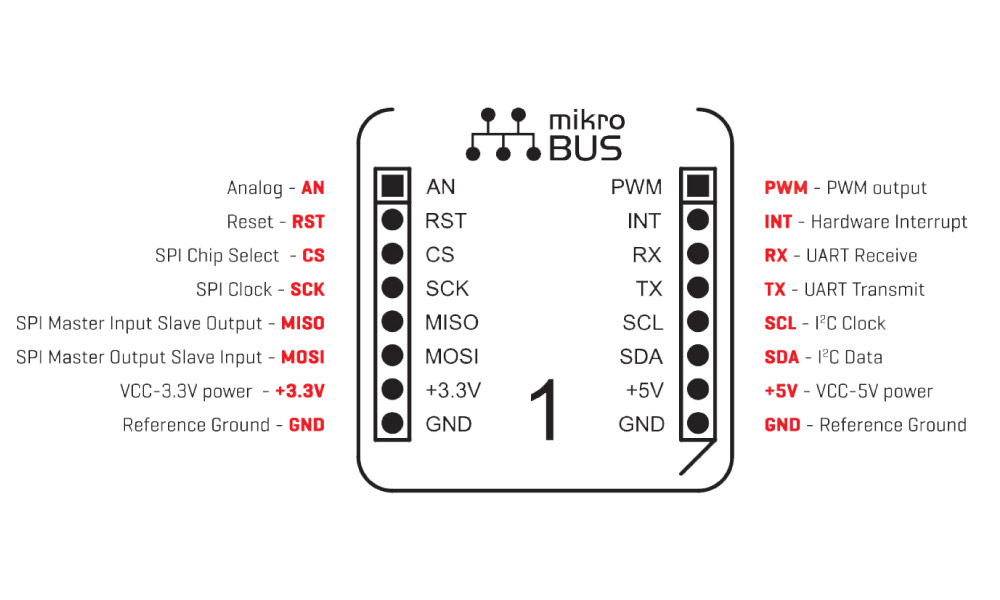 The main idea was: Take as fewer pins as possible and cover the highest possible number of peripherals. Access to pins is very easy having in mind that you get Click board™ with headers already soldered. Since mikroBUS™ is an open standard, third-party developers are incorporating sockets in their designs, adding click board connectivity. Some of the vendors are Microchip, NXP, ST, Avnet, Infineon, Future Electronics, Cypress and many other. There are also shields we have for Arduino, Raspberry Pi etc.
Our driving force - our customers
We are very thankful to all our customers. They are the driving force of Mikroelektronika. We want to thank you for all the support we received from you over the years and all the useful feedback and suggestions that helped us become even better. Your satisfaction with our products is driving us to be better every day and to work even harder to create even more useful and elegant Click boards™ and other products.


A couple of days ago, we contacted one of the first customers that bought Easy GPS - mikroBUS™ version. Victor is very happy with his board which is still in use and it's working flawlessly. "As a happy customer, I would like to thank you for great products". :)

Another buyer, John Legg had the following feedback: "MikroElektronika is the most dynamic and customer-focused company I have ever had the pleasure of working with. Their products are well designed, well documented and well promoted. 5 stars from me."

Thank you very much Victor and John!
Special offer


Having this special occasion in mind, we decided to prepare a special offer for all our faithful customers. Starting today September 4th 12AM CET until September 7th 12 AM CET

BUY 5 Click Boards™ PAY 4!*

Choose wisely and make sure to stock as many Click boards™ as you need while the special offer is still on.

We heartily invite you to visit our website and find out more about the amazing world of Click Boards.™

Yours clickerely,
Mikroelektronika

*Lowest price Click board will be for free