It actually all started at a beach. MikroE's founder, Neb, was in the same summer resort where the actor Mickey Rourke sometimes stayed (allegedly). After a Eureka moment, Neb sketched a mikroBUS™ pinout in the sand.
Like all Eureka moments, the sketch was the culmination of a long time spent wrestling with a problem. The type of problem that one thinks about in the shower in the morning. This was the question: what is the smallest number of pins that can cover the largest number of peripherals? (Sensors, transceivers, encoders, connection ports, motor drivers and so on.)
If we could solve that question, we can build hundreds of add-on boards that all fit on the same socket. Turn hardware prototyping into lego play. No soldering, no wires, no time-wasting.
Here is how the first version looked like, the one Neb brought back from his vacation:
The sand sketch was lost, but this is the first known pen sketch of the initial mikroBUS pinout proposal
It took teamwork to perfect it. The final pinout seemed obvious. It's always like that with good solutions, isn't it?
A pair of 1x8 female headers with a proprietary pin configuration and silkscreen markings. Three groups of communications pins (SPI, UART and I2 C), six additional pins (PWM, Interrupt, Analog input, Reset and Chip select), and two power groups (+3.3V and GND on the left, and 5V and GND on the right 1x8 header).
Final mikroBUS™ pinout solution
This simple solution ultimately turned into something much more permanent than that original sand sketch.
mikroBUS™ is now a dominant add-on board standard in the embedded electronics market. Its value stems from the range of hundreds of click boards.
Just a small sample of all available click boards. The real circle gets larger every week.
Since mikroBUS™ is an open standard, third-party developers are incorporating sockets in their designs, adding click board connectivity for Microsoft's .NET Micro Framework, Gadgeteer, Cypress and many more platforms.
Of course let's not forget our own line of click shields for Arduino, Raspberry Pi, Beaglebone and others.
mikroBUS™ is especially suitable for developers who are working on multi-purpose, modular products; like industrial controllers, home-automation systems or educational tools that can be easily repurposed for different needs by adding a different set of sensors.
This article will list all the known Non-MikroE boards that have mikroBUS™ sockets, and hence are click board compatible.
Microchip boards with mikroBUS sockets
Let's start with the world's leading provider of 8-bit microcontrollers and a long time friend and partner of MikroE. Microchip adopted mikroBUS™ for their own development boards. Here is a list of Microchip boards that support mikroBUS™, there are 11 so far:
The MPLAB Xpress Evaluation Board offers seamless integration with Microchip's software tool chain, especially the MPLAB Xpress Cloud-Based IDE.
"The Explorer 16/32 Development Board is a flexible development system for Microchip's 16-bit and 32-bit PIC® microcontrollers. It is a refreshed and cost-effective version of Explorer 16 Development Board (DM240001) with several new features."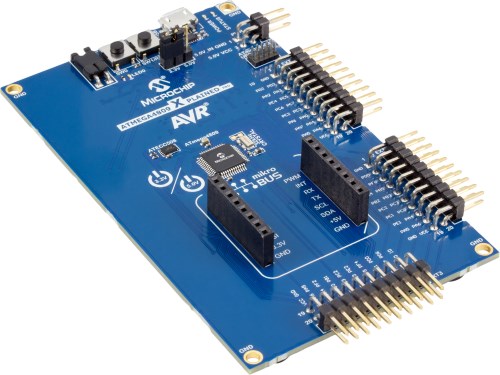 The ATmega4809 Xplained Pro evaluation kit is a hardware platform for evaluating the ATmega4809 AVR® microcontroller (MCU). Supported by the integrated development platform Atmel Studio, the kit provides easy access to the features of the ATmega4809 to fully understand how to integrate the device into a custom design.
"Microchip's BLECM (Bluetooth Low Energy Client Module) Development Kit is designed to enable you to
quickly and easily connect an embedded system to a cellphone gateway. This entire ecosystem can be setup
in a matter of a few minutes by installing the iOS or Android app and connecting to the development kit."
Microchip's IoT Ethernet Kit is designed to enable you to quickly and easily connect an embedded system to the Amazon AWS IoT cloud-based server. These development kits and their pre-configured firmware will reduce the configuration complexity and help you get connected to the cloud quickly.
Automotive Networking Development Board
"The Automotive Networking Development Board is a low-cost modular development system for Microchip's 8-bit, 16-bit, and 32-bit microcontrollers. It supports devices using the 100pin Plug-in Module (PIM) connector for easy device swapping. The board has support for four mikroBUSTM sockets which allow the user the ability to develop with a variety of MikroElectronika ClickTM add-on boards. The board also includes a PICtailTM Plus edge connector for backwards compatibility to PICtail Plus boards used with the Explorer 16 Development Board."
"PICtail™ Plus Expansion Board is an accessory that enables interfacing of vertical PICtail™ Plus Daughter Cards to Explorer 16/32 development board. The expansion board supporting vertical PICtail™ Plus connectors helps in attaching various Daughter Cards for additional functionality. The expansion board supports the New Explorer1632 board as well as the Classic Explorer 16 board."
The PICDEM™ Lab II Development Board is a development and teaching platform for use with 8-bit PIC® microcontrollers (MCUs). At its center, a large prototyping breadboard enables users to easily "experiment" with different values and configurations of analog components for system optimization. Several external connectors allow for user-customizable expansion, while Microchip library of labs and application notes enrich the development experience.
The Explorer 8 Development Kit is a full-featured development board and platform for 8-bit PIC® microcontrollers. This kit is a versatile development solution, featuring several options for external sensors, off-board communication, and human interface. Additionally, it offers ample room for expansion, making it an excellent solution for developers and engineers looking for a tool with the largest number of supported 8-bit PIC MCUs.
The original 8-bit Curiosity board is the most popular one. Here is what Microchip has to say about it:
"Curiosity is a cost-effective, fully integrated 8-bit development platform targeted at first-time users, Makers, and those seeking a feature-rich rapid prototyping board. Designed from the ground-up to take full advantage of Microchip's MPLAB X development environment, Curiosity includes an integrated programmer/debugger, and requires no additional hardware to get started."
There are five boards to choose from, out of the whole Curiosity range, supporting 8,16, or 32-bit PIC MCUs.
The Curiosity platform includes an integrated programmer/debugger, and requires no additional hardware to get started. Here is a list of all the boards in the range:
Curiosity (8-bit)
PIC24F Curiosity
Curiosity PIC32MZ EF
Curiosity (8-bit) HPC
Curiosity PIC32MX470
Curiosity PIC32MM
You can read more about each board on the Microchip Curiosity page.
That's it for Microchip.
Let's continue.
There are dozens of entrepreneurs and companies throughout the world who are adopting mikroBUS. At the time this post was published, Maker Faire Rome was starting, so let's start our journey from Italy.
Arietta4click is an extension for Arietta G25, a Linux embedded mini-board powered by ab ARM 9 Atmel AT91SAM9G25 SoC.The board has two mikroBUS™ sockets to make your Linux application compatible with click boards. The board and the click extension is produced by Acme Systems in Italy.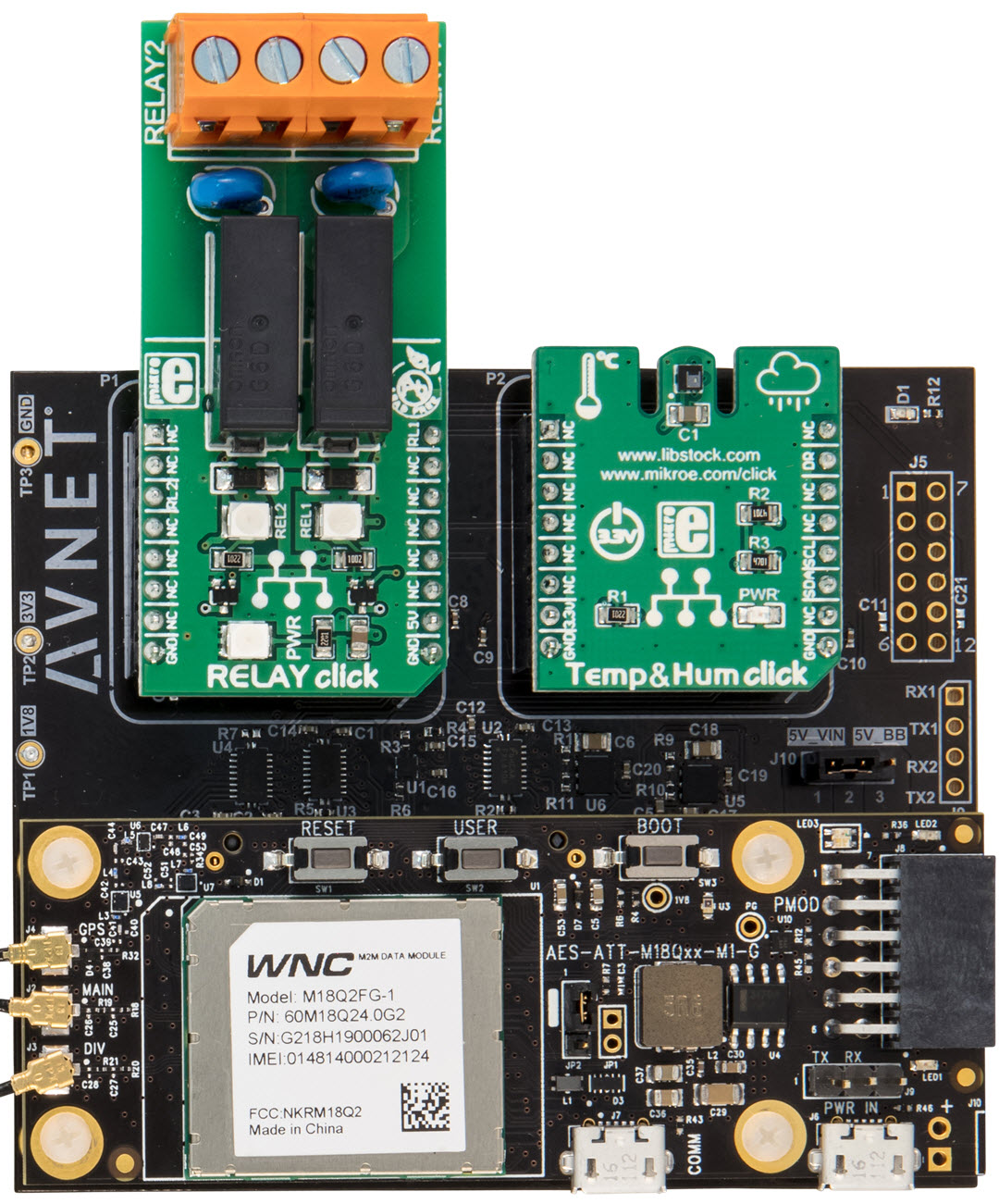 The LTE IoT Breakout Carrier is an expansion board that facilitates system-level prototyping with the 2nd generation AT&T LTE IoT Starter Kit (USA), or Global LTE IoT Starter Kit (Europe)
These LTE Cat-4 IoT Starter Kits feature versatile Avnet SOMs that support cellular connectivity, GPS location tracking, built-in sensors, dual expansion interfaces, user application hosting as well as Starter SIMs for data and SMS service.
A high-performance, low power microcomputer for developing IoT products. Powered by a dual-threaded 550MHz MIPS InterAptiv CPU in the cXT200 chip. It comes with pre-installed OpenWrt (a type of Linux distribution for embedded devices). The board has two sockets for click boards™. Developed by Imagination Technologies in the UK.
Infineon Technologies AG is a world leader in semiconductor solutions. The company philosophy is that their products make life easier, safer and greener. They strive towards making technology that is accessible to everyone and consumes less power.
The XMC4300 Relax EtherCAT® Kit is equipped with an ARM® Cortex®-M4 XMC4300 microcontroller with 256kB Flash memory and 128kB of Data memory. The board has one mikroBUS socket, a CAN connector and an EtherCAT® Slave IN and OUT interface.
Click boards can be also used in powerline communications (devices talking to each other through the mains power supply in homes or offices). The dLAN® Green PHY eval board II evaluation platform is developed for dLAN® Green PHY (a powerline communications standard). In addition to two mikroBUS™ sockets, it gives you incredibly easy access to a wide variety of interfaces such as HomePlug Green PHYTM, Ethernet, Powerline, UART and general-purpose input/output pins. This lets the one-of-a-kind development tool help get you started on your own creative applications.
Breeze is a range of prototype boards for 28-pin PIC microcontrollers developed by Dizzy Enterprises from South Africa. It contains all the basic components needed to develop a microcontroller-based solution, as well as a number of extra features. The board is organized in the Arduino form-factor and is compatible with most Arduino shields. It also features a mikroBus socket, for easily connecting any of a huge range of mikroElektronika "click" accessory boards.
FlowPaw is a development boards that attempts to teach kids to code. The board is a co-operation between DSPRobotics (a UK company), and MikroElektronika. FlowPaw was funded by Kickstarter, and was even featured on Tech Crunch.
The BrainPad circuit board is designed as a powerful educational tool that can be used to teach everyone from kids, to college students and professionals. Kids will start to learn programming using Visual Studio, one of the most widely used professional tools. College students and professionals that already know programming can use the BrainPad circuit board to learn about digital electronics and the connection between computing and the physical world.
Produced by SolidRun, HummingBoard-Gate is the first single board computer to include an integrated native mikroBUS™ socket offering easy and simple connectivity to click boards™. The brains of the board is a MicroSOM, SolidRun's System on Module, packing an NXP i.MX6 chip, a memory subsystem, and a power management subsystem.
Another click board compatible SBC from SolidRun. This board lets you discover the endless potential of the powerful ARM based boards of ClearFog. The family includes the ClearFog Pro and ClearFrog base. Harnessing the robust processing abilities of the ARMADA 38x SoC from Marvell, the ClearFog offers vast application potential as a flexible development board or a ready-to-deploy solution.
Alongside the powerful ARMADA 38x SoC, the ClearFog includes a variety of I/O and connectivity technologies such as multiple mini-PCIe/mSATA sockets, audio/telephony module header, PoE expansion header, mikroBUS™ – a simple socket allowing you to integrate a wide range of click boards™.
LumenRadio from Sweden included click boards™ in their "Better World" evaluation kit for exploring the possibilities of Mira – a wireless standard for IoT that uses the world wide license-free 2.4 GHz ISM band.
From Sensor to Cloud, the DM990101 IoT Ethernet Monitoring kit powered by Medium One (Software-as-a-Service) offers an all-in-one IoT package. To address Industrial Internet of Things (IoT) projects, the Ethernet technology becomes the most reliable and stable connectivity. This IoT kit uses an Ethernet LAN8740A and comes pre-loaded with Medium One cloud service, mobile application (from Saritasa) as well as corresponding Microchip firmware. The firmware in the kit makes use of MPLAB®Harmony, FreeRTOS™, and WolfMQTT allowing you to quick-start your IoT design. The Ethernet port is controlled by a 32-bit microcontroller that benefits from a 2MB Flash of the PIC32MZ EF providing plenty of memory space for your application code.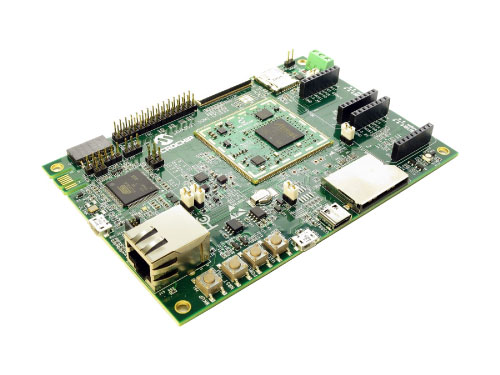 The ATSAMA5D27-SOM1-EK1 is a fast prototyping and evaluation platform for the SAMA5D2 based System in Packages (SiPs) and the SAMA5D27-SOM1 (SAMA5D27 System On Module). The kit comprises a baseboard with a soldered ATSAMA5D27-SOM1 module. The module features an ATSAMA5D27C-D1G-CU SIP embedding a 1-Gbit (128 MB) DDR2 DRAM. The SOM integrates a Power Management IC (PMIC), a QSPI memory, a 10/100 Mbps Ethernet PHY and a serial EEPROM with a MAC address. 128 GPIO pins are provided by the SOM for general use in the system. The board features a wide range of peripherals, as well as a user interface and expansion options, including two mikroBUS™ click interface headers to support MikroElektronika click boards™ and one PMOD™ interface. Linux distribution and software package allows you to easily get started with your development.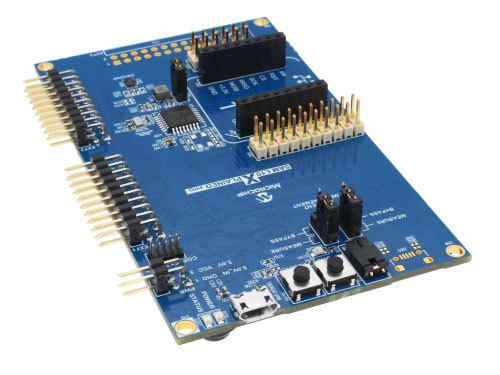 The SAML11 Xplained Pro evaluation kit is ideal for evaluating and prototyping with the ultra low power SAML11 ARM® Cortex®-M23 based microcontrollers integrating robust security which includes ARM® TrustZone®, secure boot, crypto acceleration, secure key storage and chip-level tamper detection. In addition to security the SAM L11 MCU features general purpose embedded control capabilities with enhanced peripheral touch controller and advanced analog.
The kit is supported by demo examples which includes trusted execution environment, secure LoRa IoT node and Amazon Web Services (AWS) enrollment using Trustonic Kinibi-M, additionally it is supported by water tolerant touch and keypad touch demos. It has microBUS socket and Xplained pro extension headers to expand the development with Mikroelektronika click boards and Xplained pro extension kits. The kit includes an on-board Embedded Debugger, eliminating the need for external tools to program or debug. The kit also has Xplained Pro Analog Module(XAM) that can be used with the Data Visualizer tool to monitor and analyze power consumption in real time.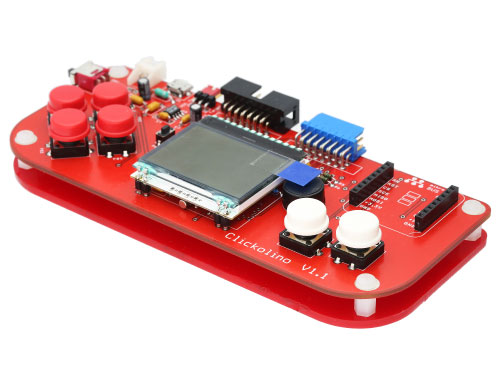 Many programmers fans of the MSP430 microcontroller would like to use the Click boards™ from MikroElektronika. Clickolino is the way they can use these boards by writing code for the MSP430. Moreover, Clickolino is a simple development system that allows designing applications from the simplest to the most complicated. Clickolino development board is a perfect start to learning how to code and make cool embedded projects. This little development system can be interesting for beginners as well as for the most experienced. We designed the Clickolino board to be eye-catching for you. It has the capability to hold a socket for the Click boards.
The mikroBUS™ standard is founded and maintained by MikroElektronika company, allowing all the various Click boards to perfectly fit in, without any compatibility issues. Besides the 3.3V available from the Clickolino, the Click adapter offers an additional 5V power supply, required by some of the Click boards. This allows interfacing with an extended range of different devices.
Program click boards with PHP with this shield. PHPoC stands for "PHP on chip". It's a scripting language based on PHP developed by Sollae Systems from Korea. The syntax is very similar to real PHP, but adapted for IoT. So, not only it can be used to develop dynamic web pages, but it can also be used to monitor and control electronics, through the compatible PHPoC board.
The CPM Mikrobus Adaptor board is designed to enable Cypress PSoC development boards to utilize the dozens of Mikrobus Peripherals boards that are available today.
A team from Domotique-info, the largest French home automation website, developed a click board-compatible SBS (Smart Board Sensors) system for interfacing sensors and actuators with home automation controllers. Among other connectors, it has a mikroBUS™ socket as well.
This one has nine sockets for click boards! The VEST Embedded Solutions mikroBUS™ Interface Board connects to their SOM Development Platform through a 50-pin flex cable. VEST offers an Android Device Control Development Kit application that can run on their target development platforms. This allows users to easily experiment with various click boards™ and Android.
VEST Development Platform is a standalone embedded computer with key input/output interfaces exposed. They have a Development Platform configuration for each of their SOMs. All our development platforms come with a touch screen display, with wifi and camera options. Choose from Linux or Android OS and start developing your application in a matter of minutes.
Before we worked together with NXP on Hexiwear, there was the single mikroBUS™ socket Sabre board. NXP® delivers the Smart Application Blueprint for Rapid Engineering (SABRE) board based on i.MX7Dual applications processor, utilizing both the ARM® Cortex®-A7 and Cortex®-M4 cores with enhanced security and power optimization.
With the goal of faster time to market, the SABRE board allows developers to evaluate the processors' primary features including hardware-enabled security, integrated EPD controller, LCD/HDMI/MIPI DSI display and flexible connectivity interface, plus rich on-board solutions to Wi-Fi®/Bluetooth®4.0+EDR (Supporting BLE), and dual 1 Gigabit Ethernet.
The corresponding software support enables developers to run a rich operating system like Linux® or Android™ on the ARM® Cortex®-A7 core and FreeRTOS on the ARM® Cortex®-M4 core, exploring the full potential of the Heterogeneous Multicore Processing (HMP) architecture.
WaRP7 shortens time-to-market by enabling you with the solution which is complete, comes in a tiny form factor, connected and yet flexible enough to offer all the advantages of traditional development tools. The platform consists of the main board and a daughter card. The main board is based on the NXP® i.MX 7Solo applications processor that features an advanced implementation of the ARM® Cortex®-A7 core, as well as the ARM® Cortex®-M4 core.
The daughter card is based on a flexible design with sensors to collect a range of data and our mikroBUS™ socket. It offers users over 300 click boards™, allowing rapid prototyping across all potential wearable usage models.
Modular Edge Node Platform is an advanced multi-module compatible end node, with mikroBUS™ standard compliant headers. It's targeted for multiple use cases in various segments of IoT such as smarthomes, buildings, connected applications and more.
The Modular Edge Node Platform is part of NXP's Modular IoT Framework, designed together with Volansys. Learn more.
Micromite Ltd. offers the Explore 64 and Explore 100 for trying out the 64-pin and 100-pin Micromite Plus. While the Explore 64 is designed to be plugged into a standard solderless breadboard, the Explore 100 is intended to fit onto the back of a 5 inch LCD panel. It also includes two mikroBUS™ sockets so that you can select from the many click boards™ to add them to your Micromite Plus project.
The mikroBUS™ adapter Lure – Lure is how MinnowBoard expansions are called – has a single mikroBUS™ socket along with a 13x5 breadboard area.
MinninowBoards are open hardware boards. The Max version has a 64-bit Atom™ Er8xx Series SoC with integrated Intel Graphics. Depending on the exact model, the board has between 1 and 3GB of DDR3 RAM, and 8 MB SPI Flash for System Memory. A plethora of additional peripherals are there too.
The Nebula board is an IoT cloud ready board which allows users to quickly prototype and deploy their IoT ecosystems. The board has an ARM Cortex-M4 MCU with 32 bit RISC Core, 180 MHz frequency, 2MB Flash, up to 256 kB SRAM. As you can see from the image, the Nebula development board has one mikroBUS™ socket for click board™ connectivity.
Quail board brings together click boards and Microsoft's .NET Micro framework. It is a development board with four mikroBUS™ sockets and an STM32 MCU, with firmware compatible with Microsoft's framework for embedded applications. As of recently, this board is also Python compatible. Developed by the mikroBUS.NET team from France. Produced by MikroElektronika.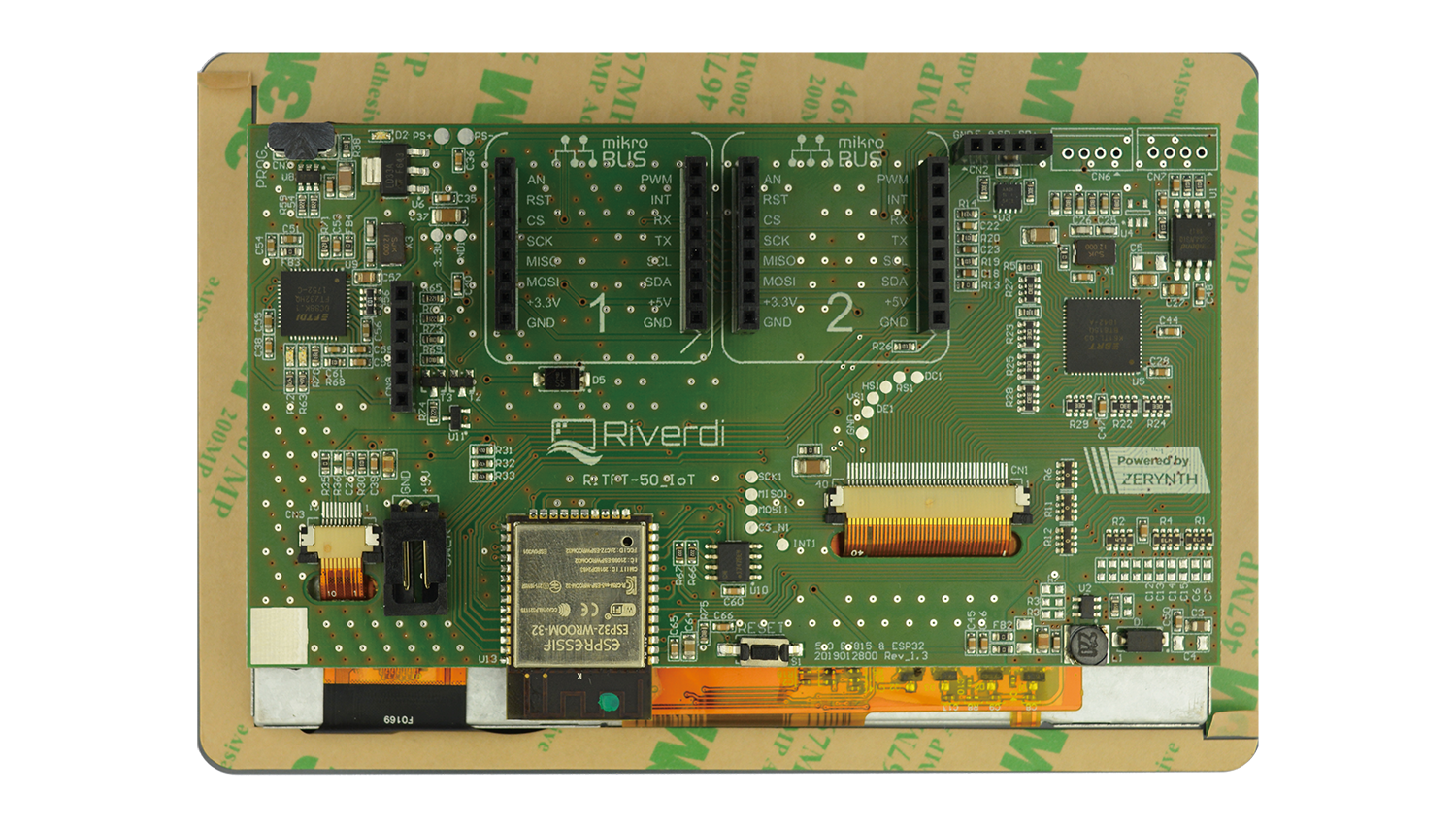 Riverdi has recently launched its new line of IoT displays. Python programmable, with integrated WiFi and Bluetooth®, and expandable with MikroElektronika Click Boards™ - they are the perfect companion for your next IoT project.
Since the Riverdi IoT displays have two MikroBUS sockets onboard, they are easily expandable with hundreds of MikroElektronika Click Boards™.
Each Click Board™ carries a certain functionality, that can be added to the display. You can choose from temperature and humidity sensors, voltage regulators, RF transceivers, motor control, button, switches, text to speech converters, and UV sensors.
Avnet Azure Sphere MT3620 Starter Kit featuring two mikroBUS™ sockets! The kit supports rapid prototyping of highly secure, end-to-end IoT implementations using Microsoft's Azure Sphere.
Big selection, isn't it? Perhaps one day listing all boards with mikroBUS™ will become as absurd as listing all devices that have a USB port. In the meantime we will ask you this.
If you find a board with a mikroBUS™ socket that is not listed here, leave a comment. Even you yourself want to create a board, here are the specifications you must follow. We can add your board to the list too.