In the fast-paced world of technology and innovation, there's no denying that age is just a number when it comes to talent and passion. At MIKROE, we recently had the privilege of hosting our youngest intern to date, the remarkable 12-year-old Ugljesa.
In his three-week internship, Ugljesa embarked on an exciting journey. His accomplishments during his internship include creating a unique Click board™ set to be featured on our website in the coming months. Join us as we dive into the story of Ugljesa, an inspiring young talent.
To get to know Ugljesa better and capture his internship journey in his own words, we sat down with him for an video interview. Despite his initial shyness, Ugljesa's confidence and enthusiasm shone through as he shared his experiences and insights from his time at MIKROE. In this interview, you'll witness Ugljesa's infectious passion for technology and his genuine excitement to share his impressions of the internship. Get ready to be inspired by his journey:

ABOUT UGLJESA
Ugljesa Ugljesevic, a 12-year-old from a small town near Belgrade, made quite an impression here at MIKROE. You may recall his introduction from our previous blog post about the visit of Nikola Tesla Elementary School, where we first affectionately dubbed him the "12-year-old prodigy." It was during this visit that Ugljesa shared his immersive desire to come to MIKROE and explore the embedded world further. With the full support of his parents, he enrolled in our three-week internship program.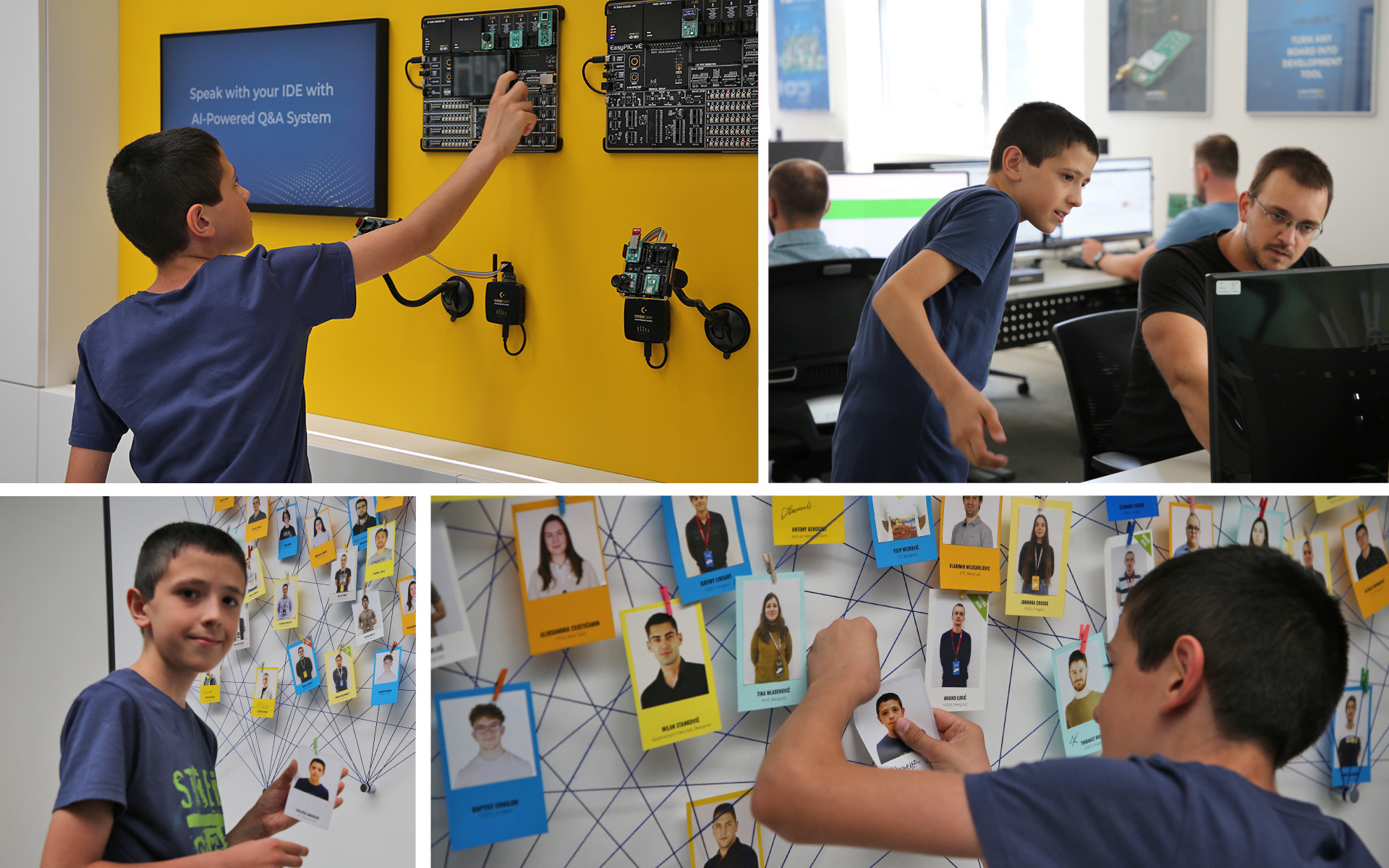 Throughout his internship, Ugljesa was under the guidance of his mentor, Aleksandar, Click board™ Team Leader, who assisted him in creating a product for our well-known Click board™ line. Ugljesa's internship project is a success, and it will soon be featured on our website.
Interestingly, when we asked Ugljesa about his favorite part of the internship, his answer was refreshingly simple: playing basketball in our backyard. That was a reminder that beneath his prodigious talents, he remains a child enjoying his time. He aspires to become a software engineer in the future, and we're eager to see his journey unfold.
NEXT CHAPTER
As we wrap up this chapter in Ugljesa's incredible journey, we want to extend our best wishes for his future endeavors in the embedded world. Ugljesa, your dedication, curiosity, and exceptional talent have left a lasting impression on all of us at MIKROE. We look forward to the possibility of welcoming you back next year, this time for a software internship.

Until then, keep pushing the boundaries of what's possible, and we'll be eager to see you again next year, Ugljesa.
INTERNSHIP AT MIKROE
Don't forget that you can also enroll for our internship program. Send us your internship applications and get the chance to work on challenging projects in the lab. Of course, you'll be under the steadfast guidance of our engineers.

Do you have a project you always wanted to bring to life but didn't know how? Join the internship program and work with all our products. Show us your skills and talents. Let's build something amazing together!
Your MIKROE