Book Overview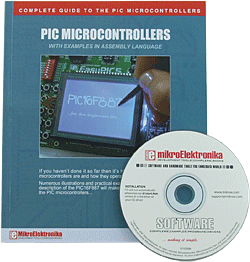 If you haven't done it so far then it's high time to learn what microcontrollers are and how they operate. Numerous illustrations and practical examples along with a detailed description of the PIC16F887 microcontroller will make you enjoy your work with PIC MCUs.
Title: PIC Microcontrollers
Author: Milan Verle
Number of pages: 394
Publisher: mikroElektronika; 1st edition (2008)
Language: English
ISBN-13: 978-86-84417-15-4
Paperback Color: Two Color
Covers Color: Full Color

Table of Contents
This book is available for browsing and reading online, absolutely free of charge. To read book free online follow next links:
Reader reviews
"Must have for PIC starters" by John Peterson
"Book that absolutely worth of reading. It provides simple way to understand PIC architecture and programming. This book is not about fancy projects, it is basically good starting point and definitely a must have. There is no boring material and confusing diagrams about PIC architecture. The author states that microcontroller is a good-natured "genie in the bottle" and it cannot be said in a better way."
"Excellent intro to microcontroller programming" by Jeff Lurk
"My first book that i have bought regarding PIC programming and I can honestly say that it's a superbly written book. The book is very simple to read and follow with great 3d illustrations. The author is enthusiastic and guides reader through the world of PIC microcontroller very easily. Many people including myself are scared by assembly programming, but you'll find it's much easier than you think and you'll get the hang of it quite quickly."
Disclaimer
The content published in mikroElektronika's online books is subject to copyright and must not be reproduced in any form without an explicit written permission released from the editorial of mikroElektronika. The book was prepared with due care and attention, however the publisher doesn't accept any responsibility neither for the exactness of the information published therein, nor for any consequences of its application.