As June begins, the full heat of the summer is nearing, so we prepared a list of the hottest MikroE products to turn your eyes to.
These are the products that need to show up in your shopping cart and on your desk.
Engineers around the world bought these 5 products the most since the year began, and we thought that it would be useful to see what your peers are considering the best of the best.
---
AnyNet 2G click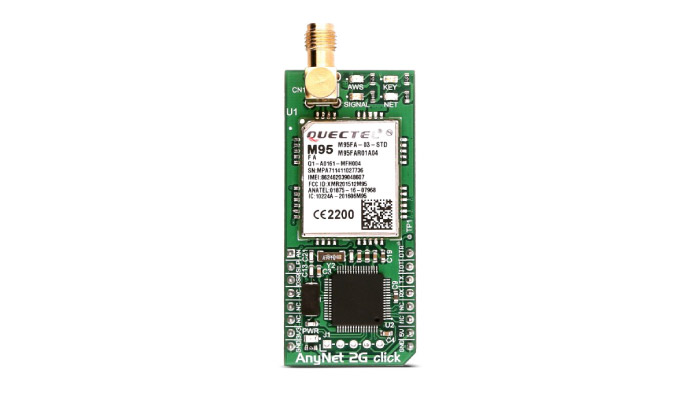 AnyNet 2G click provides developers with a complete solution for various IoT applications, by using the AWS IoT and Cloud Storage services for the data storage, analyzing and processing.
This click board™ provides an easy and secure connection with the AWS over the air (OTA), by utilizing the equipped Quectel M95 module and Eseye ES4623 embedded SIM card, that can work with more than 235 cellular operators from all over the world.
As one user said: "We are no longer bound to the physical location. I can manage an Anynet2G located in Africa without leaving the comfort of the air conditioning in my office in Bucharest."
OLED C click

OLED C click is equipped with the 96x96 high-color OLED display. It can display up to 65K/262K different colors and shades.
The Click doesn't require any backlight - since the pixel elements emit light on their own.
The graphics driver used on this OLED display is the SSD1351, the display driver IC from Solomon Systech with embedded 128x128x18 bit SRAM display buffer.
THERMO 5 click

THERMO 5 click measures temperature in default range of 0°C to 127°C (extended range of -64°C to 191°C).
The click can monitor four temperature channels - three external and one internal.
The device contains programmable High, Low, and Thermo limits for all measured temperature channels. If the measured temperature goes below the Low limit or above the High limit, the ALERT pin can be asserted (based on user settings).
MINI-M4 for STM32

MINI-M4 for STM32 - a super small ARM® Cortex™-M4 development board. This compact board perfectly fits into a standard DIP40 socket.
The board comes preprogrammed with fast USB HID bootloader, so no external programmers are needed for development.
WiFi 7 click

WiFi 7 click is optimized for IoT applications, with its low power consumption and 802.11 b/g/n module.
The module has a Cortus APS3 32-bit processor. This processor performs many of the MAC functions, including but not limited to association, authentication, power management, security key management, and more.

---
Click on the product image to learn more. We hope you enjoyed this overview of top MikroE sellers.
Yours sincerely,
MikroElektronika