WHAT IS LiDAR?

LiDAR is one of those buzzwords we can recently hear more and more when talking about autonomous driving, robotics, terrain mapping, augmented reality, and even smartphones. So, what is a LiDAR? The basic working principle of LiDAR is similar to a RADAR: it measures the distance by measuring the time needed for a signal to travel back to the emitter as it hits an obstacle. However, unlike RADAR, which uses radio waves, LiDAR (light detection and range) uses light to probe its surroundings. The basic principle of operation is based on measuring the flight time of a photon reflected off of a surface; a phenomenon also known as the Time of Flight, or ToF.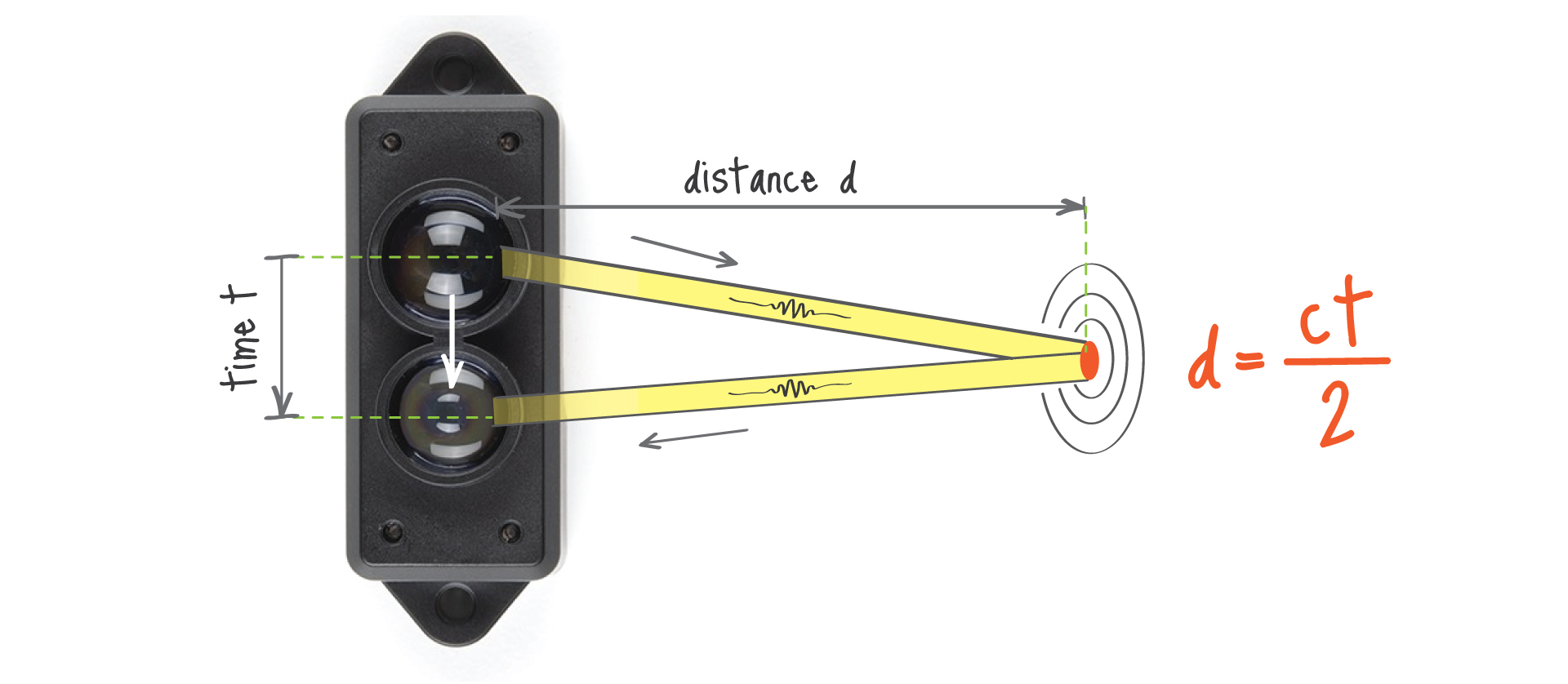 LiDAR was first introduced back in 1961 by the Hughes Aircraft Company and was intended for satellite tracking and various phenomena in meteorology. The first devices were complex and expensive and were not designed for civil applications. However, with miniaturization and rapid advancements in sensing technologies, LiDAR technology became increasingly popular, providing highly accurate distance measurements. Modern LiDARs can provide a fast and precise spatial mapping on a range of different scales. From large land and sea masses down to obstacle detection and face recognition, LiDAR is used almost everywhere. In combination with some additional sensory data, LiDAR technology ushered the way for autonomous driving.

WHICH SENSOR DO WE USE?

Benewake company specializes in developing and manufacturing compact LiDAR solutions, offering both point and wide-area 3D scanning LiDARDs. Their TFmini S and TFmini Plus ToF LiDAR solutions are testimony to the miniaturization of LiDAR systems, delivering highly accurate distance measurement from 10 cm up to 12 m at a high frame rate, using a low-power and safe 850nm light source. These compact devices caught the attention of our HW developers, which decided to put them on an S-sized Click board™, allowing both developers and hobbyists to evaluate and experiment with these miniature LiDAR-based ToF solutions.

TFmini Click board™

TFmini Click board™ allows connecting either of these two ToF solutions via the small 1.25mm MOLEX connector, offering a selectable UART or I2C interface to the MCU. You can read more about these compact yet highly versatile LiDAR sensors on the product page.
TRY OUT LiDAR TECHNOLOGY NOW

We wanted to make trying out LiDAR technology even easier for you, so we've prepared two TFmini Click bundles: TFmini S Click Bundle and TFmini Plus Click Bundle. Both of these bundles give you everything you need to take high-accuracy distance measurements.

Your MIKROE