Another great product review from electronza.com. This time you get the chance to read what Teodor thinks about Shuttle click and mikroBUS Shuttle.
It is always easier to make a decision about a purchase when you can read about what people think about it. It's basic human phycology - people like to know what other people think. More importantly, it's great to see a product review from someone who has been using those products for a while.
When it comes to these two products, the benefits are obvious even from the image. As Teodor said in his post:


"First, you can forget about soldering and desoldering. In my proposed approach one had to remove the pins on one click board and replace them with 8-pin stacking headers. You don't have to go through that hassle anymore. Just click the cables and the boards into their sockets, and you're good to go.
Second, you get some extra freedom due to cable length – no more conflicts due to the physical size of the boards and components."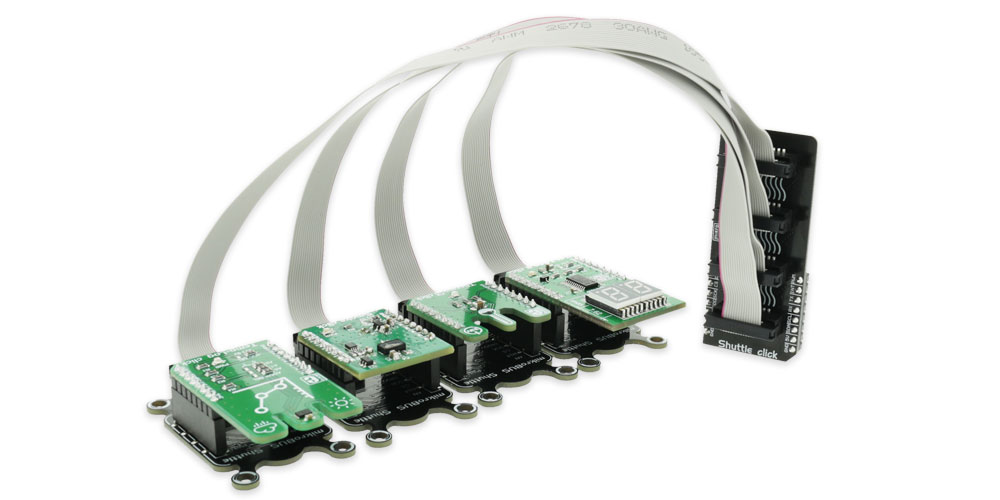 The third fact that Teodor brings out is that mikroBUS Shuttle boards come with mounting holes. The path from prototype to final product is even faster - you can fit your project inside a case, and make it more permanent.
Back in 2016, Teodor wrote an article about stacking Click boards. It's full of useful information, so we suggest you read it as well.
Unlimited possibilities
You probably already realize this, but with these two products, the possibilities are endless. For example, you can take your favorite Clicker 2 development board, and with two Shuttle clicks added to it, you can use eight Click boards™. That means eight different functionalities on one small development board.
Or, take the Flip&Click SAM3X and its four mikroBUS™ sockets, with Shuttle click and mikroBUS Shuttle you can add sixteen Click boards. Imagine what you can do with sixteen Click boards. The number of opportunities is bigger than ever before.
electronza.com
If you visit electronza.com you'll find a ton of useful tutorials and product reviews. Teodor seems to have the pulse on the current state of embedded development. We wholeheartedly recommend that you make his blog a regular spot on your web tour.
For more information about Shuttle click, visit the product page. For mikroBUS Shuttle, do the same.
Yours sincerely,
MikroElektronika