Pi 4 Click Shield is the perfect way to expand your development board's functionalities compatible with Raspberry Pi 4 pinout. The Pi 4 Click Shield provides two mikroBUS™ and one Shuttle socket to add any functionality from our ever-growing range of Click boards™.
The Pi 4 Click Shield is compatible with Raspberry Pi 4 Model B that comes with a 1.5GHz 64-bit quad-core ARM Cortex-A72 processor, onboard 802.11ac Wi-Fi, Bluetooth 5, full gigabit Ethernet, two USB 2.0 and 3.0 ports, and dual-monitor support via a pair of micro HDMI (HDMI Type D) ports for up to 4K resolution. This Click Shield also comes with a small onboard fan that keeps your Raspberry Pi 4 board at a comfortable operating temperature even under heavy load, as well as with on board multi channel ADC which enables you interfacing some analog sensors.

In addition to the mikroBUS™ sockets, this Click Shield also has one additional ICD BOX header intended to be used with mikroBUS™ Shuttle, which carries one mikroBUS™ slot and represents an ideal solution when there is a demand to have more Click boards™ than the development system can support. Our Click boards™ are equipped with a library containing functions and example codes for Mikroe compilers available on LibStock, which can be used, as a reference, for further development.

SPECIAL OFFER
We have a special offer for you! Buy Pi 4 Click Shield and get mikroBUS™ Shuttle for FREE!
This offer lasts until Monday, April 12th at 12 AM CEST.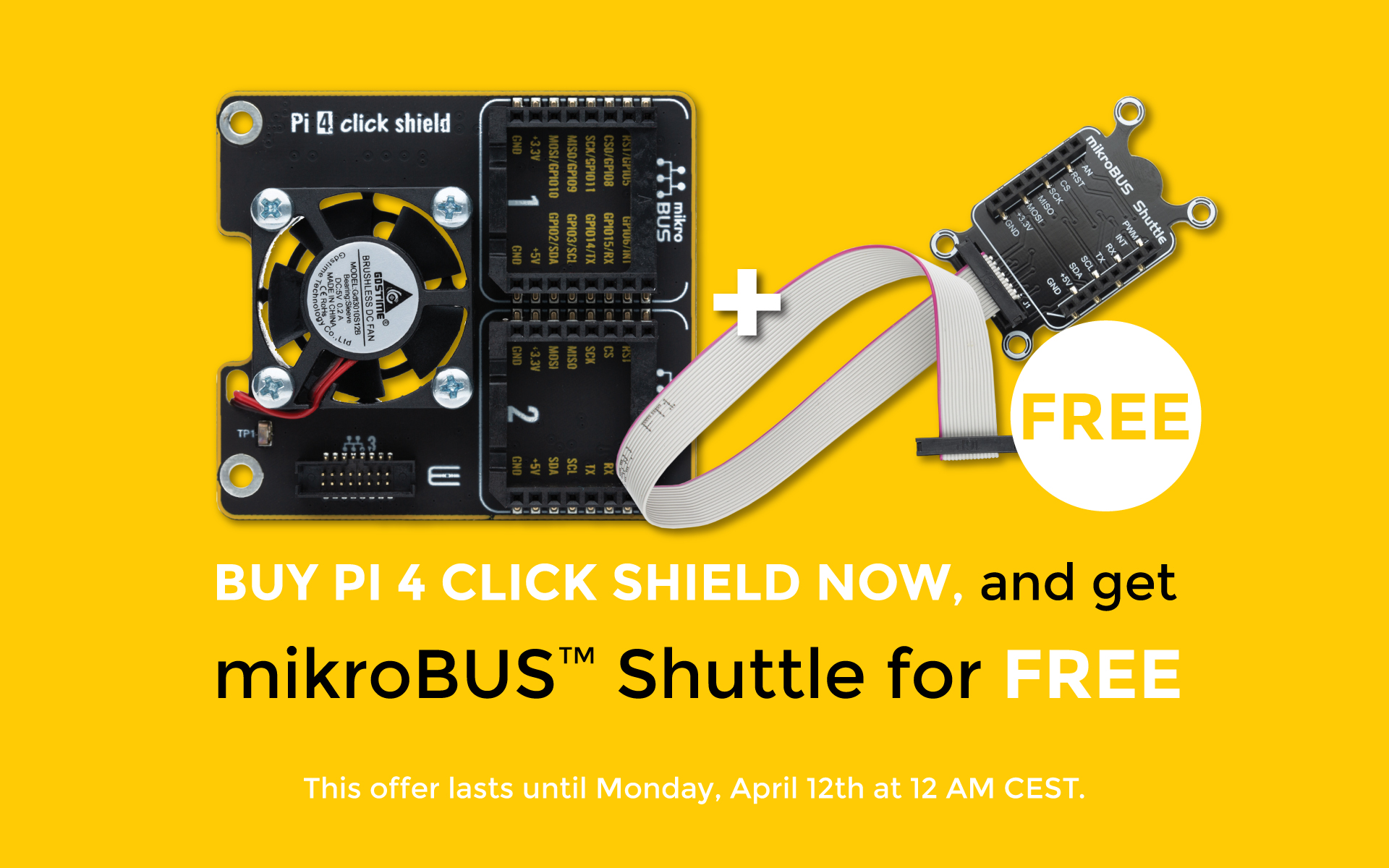 For more information about Pi 4 Click Shield visit the official product page.

Your Mikroe