Yesterday was filled with excitement and nostalgia at MIKROE, as we bid farewell to our spring/summer interns from France and extended a warm welcome to a new group of French interns set to embark on an exciting journey with us for the next three months.
The party turned out to be a memorable fusion of cultures, ideas, and friendships. From presentations showcasing the interns' hard work to a vibrant French-themed celebration with a Serbian twist, the event epitomized the essence of diversity and collaboration.
The Showcase of Interns' Projects
The festivities began with a showcase of the incredible projects that the six French interns had diligently worked on during their internship at MIKROE. Each intern confidently presented their accomplishments, demonstrating their skills, creativity, and dedication.
Adding to the significance of the occasion, we had the privilege of welcoming François-Xavier Kowandy, the attaché for cooperation of the Embassy of France and Vesna Todorovic, coordinator for the mobility of students and scientists. Their presence lent support and encouragement to our interns, underscoring the importance of international cooperation and cross-cultural exchange. The exchange of ideas between MIKROE and France undoubtedly enriched both sides and fostered a strong bond.
Sharing Impressions about Life in Serbia
During the event, the French interns shared their impressions of life in Serbia and their experiences at MIKROE. Their anecdotes illuminated the beauty of cultural exchange as they spoke warmly of the hospitality and warmth they had received from their Serbian colleagues. It was evident that their time at MIKROE had not only been professionally enriching but had also opened their minds to new perspectives and lifelong friendships. Following the presentations, their mentors presented them with certificates of completion, acknowledging their outstanding contributions and hard work.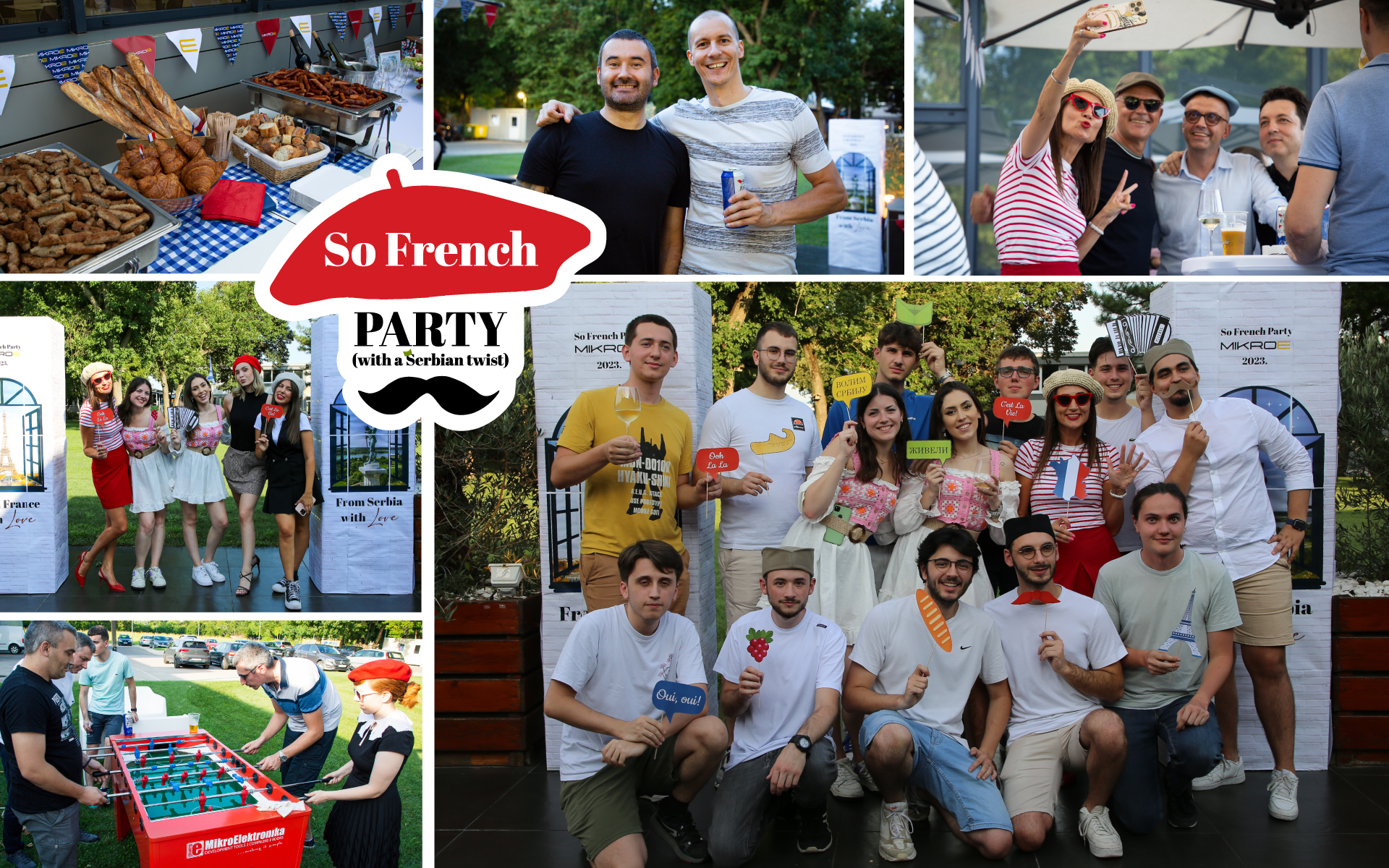 A French-Themed Party with a Serbian Twist
The celebration moved to the picturesque terrace, where a delightful French-themed party awaited the attendees. In a true reflection of MIKROE's commitment to cultural fusion, the party featured the best of both French and Serbian worlds. French wines and beers intermingled with traditional Serbian specialties, creating an exquisite culinary experience that delighted everyone's taste buds.
The air was filled with the tunes of both French and Serbian music, bringing people together on the dance floor. The joyful ambiance and the spirit of cultural exchange made it a night to remember for all.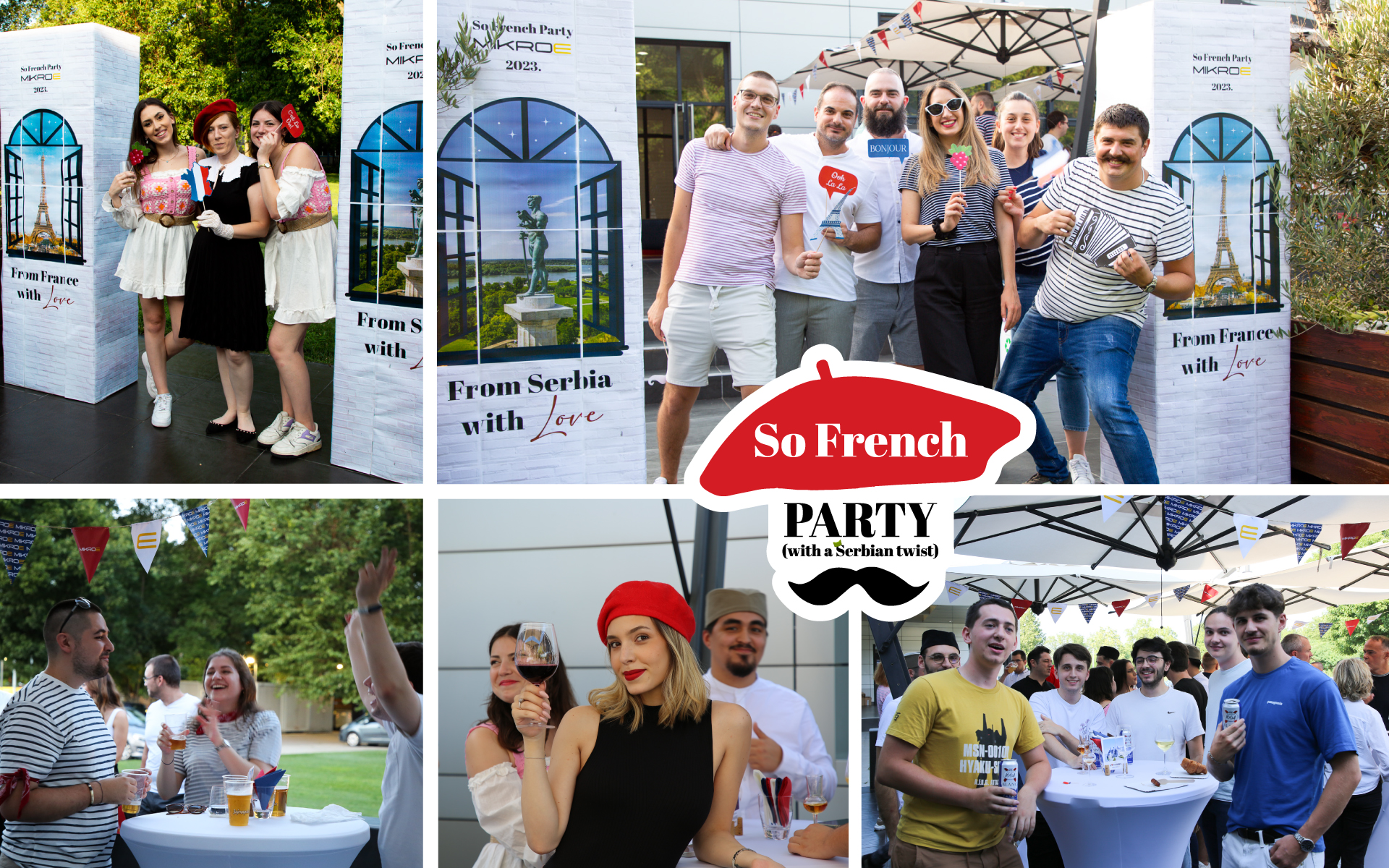 The Unforgettable Farewell and Welcome
The farewell and welcome party at MIKROE perfectly encapsulated the essence of cultural exchange. By bidding farewell to one group of French interns and welcoming a new batch, the company demonstrated its commitment to fostering global talent and creating a diverse work atmosphere. The event showcased the exceptional work of the interns and the seamless integration of French and Serbian cultures. As the night came to a close, it was evident that this celebration had sown the seeds for lasting connections and enriched experiences, leaving everyone eager to see what the future holds for MIKROE's international collaborations.

Your MIKROE