It's the 8th of March soon, the International Women's Day. A day when we celebrate social, cultural and intellectual achievements of women around the world. Like every year, MikroElektronika does the same.
This time we decided to bring the women engineers of the company into focus. Our hope is to raise awareness around the issue of equality in this particular field.
Everyone can make a difference in their professional and personal life. So, let's take this day and make it great. Kick off the 8th of March with the intention to spread equality, progress, and empathy.
Women engineers of MikroElektronika
Biljana is our wondrous presenter, sales representative, and business-savvy engineer. We certainly don't take her for granted. Today, Biljana, as well as the rest of the ladies, is going to talk about her two favorite MikroE products. Biljana has been working in MikroElektronika for a little over two years. She says that her favorite colleague is Voja, with who she makes all the latest click per minute videos. So, if you are not subscribed to our YouTube channel, now is your chance.
Out of all our product, she has chosen two - mikromedia for PIC18FJ and Air quality 4 click.
Why this mikromedia? Well, Biljana has always been a PIC lover, and she claims that this compact smart display is great for GUI applications. Air quality 4 click, her second choice, is an advanced air quality sensing device. Watch the video to learn more.
Srna, whose name means "doe" in Serbian is another member of the Sales team. She seems to be able to do anything. Srna is a mother of a one-year-old boy, a web developer in training, a successful sales representative, and an aikido student. One looks rather unaccomplished next to Srna. She is surely an inspiration. As her two favorite products, Srna chose the mikroC PRO for PIC compiler and the Clicker 2 for PIC32MX.
Marija, our amazing hardware engineer, has been working in MikroElektronika for almost a year. She is actually the only woman in hardware. We are hoping to turn this around, so if there are any women who would like to join our team, they are more than welcome. Marija is the person behind a lot of Click boards™ you have been seeing lately. She says that her favorite Click board™ is AnyNET 2G click. But since she couldn't choose just one, she claims that out of all the projects she did MIC24055 click has been the most exciting one.
Angelina is one of the engineers in Software, part of the release team. She is the mind behind all the latest compiler updates. She also does rumba and salsa dancing, in her spare time. But that's not all. Angelina is great in the field of robotics. Angelina has chosen one of our full-featured boards - the EasyPIC Fusion v7 and a smart display mikromedia HMI 4.3'' UXB. This particular mikromedia has a 480x272px color display, with a capacitive touch panel, and a 32-bit core. Who wouldn't select it as their favorite?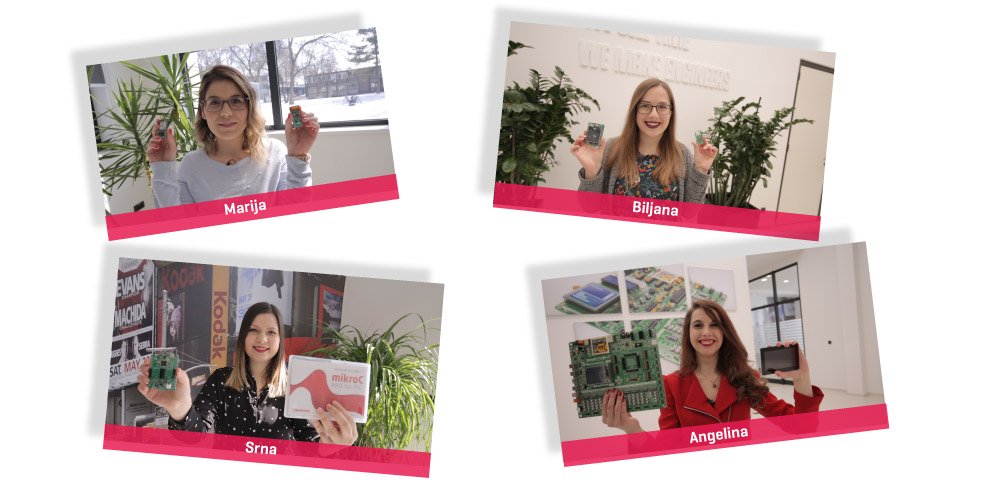 Women in science
Since we are celebrating the women of science in MikroElektronika, we thought that we could end this post with a celebration of women in science through the ages.
We can start with the famous Hypatia of Alexandria. A mathematician and astronomer of the 4th century AD. She is the world's first female mathematician whose life is well documented. She held lectures to students from all over the world. It is said that she constructed a silver plane astrolabe, with which one can calculate the date and time, based on the position of the planets.
Next, we have Laura Bassi, an 18th-century physicist. She was the first woman in the world to acquire a professorship in physics in Europe. Laura was also the first woman to be appointed a university chairman in a scientific field. Her main interest was Newtonian physics and she lectured on that subject for 28 years in at the University of Bologna.
Finally, the first computer programmer in the world, Ada, Countess of Lovelace. Daughter of the English poet Byron, Ada was a mathematician and a writer. When she was seventeen she met the mathematician and inventor Charles Babbage. He became her mentor, and Ada later translated an article about Babbage's analytic engine from Italian to English. While she did the actual translation she added her own comments and conclusions about the analytic engine. The comments turned out to be three times longer than the original text. In those notes, Ada described how a code can be written, that would make the analytic engine handle both letters and symbols, along with numbers. In addition to this, she proposed a theory how the engine can repeat a series of instructions - the process we know today as looping, in computer programming.
Yours sincerely,
MikroElektronika