Hello MIKROE Users,

One more very successful month for us. If you haven't seen what's new here at MIKROE, don't worry, we are here to show you the highlights of the month! Enjoy the list :)
What's new
This month we had one new product release every day. Start your day with a brand new product release at 10 o'clock on our website.
This month we released 20 new products. We added to our shop 17 new Click boards™, 2 new mikromedia boards, and we had one more NECTO Studio Update.
NECTO Studio Update 1.8.5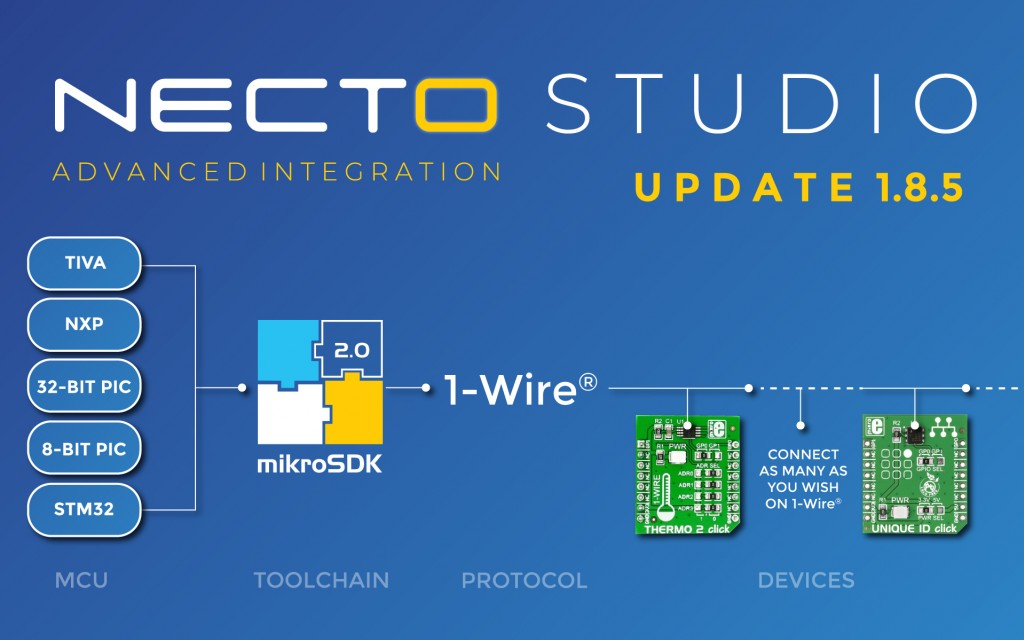 The multi-architectural software development kit - mikroSDK - is getting a fresh update in terms of software libraries and hardware support.
1-Wire® protocol - new library - will help you get unique identification number (unique ID) for your hardware product or your printed circuit board (PCB) as well as retrieve data readings using only one data wire. Neat feature, wouldn't you agree?
Mikromedia devices - hardware support - three newly released Mikromedia boards have been added to mikroSDK v2
Mikromedia shields - connection definitions – Assemble your prototypes quickly using these shields. Just snap Click add-on boards (almost 1100 Click examples within NECTO Studio!) into mikroBUS™ sockets, like LEGO blocks and voila, you will be good to go.
mikroBUS™ standard keeps growing

The portfolio of boards that have embraced the revolutionary mikroBUS™ standard continues to rise and now contains 390 boards! We are sure this number will go up again soon, so continue following our website to get the latest updates regarding the mikroBUS™ standard.
Continue following us on our social media for daily updates
Until next time,
Your MIKROE