Development right out of the box is possible if you have all the tools. That is why we have the mikroLAB kit - a perfect toolbox for embedded developers.
For one week only, we have prepared a special discount on all our mikroLAB kits. Each one is 25% OFF. From Monday, March 12 until Monday, March 19, 12:00 CET.
This is great chance to get a full set of tools with over $100 discount; or more depending on which development kit you choose. When it comes to opportunities, it does not get better than this.
Start developing straight out of the box
If you are wondering what's inside, take a closer look at the image below.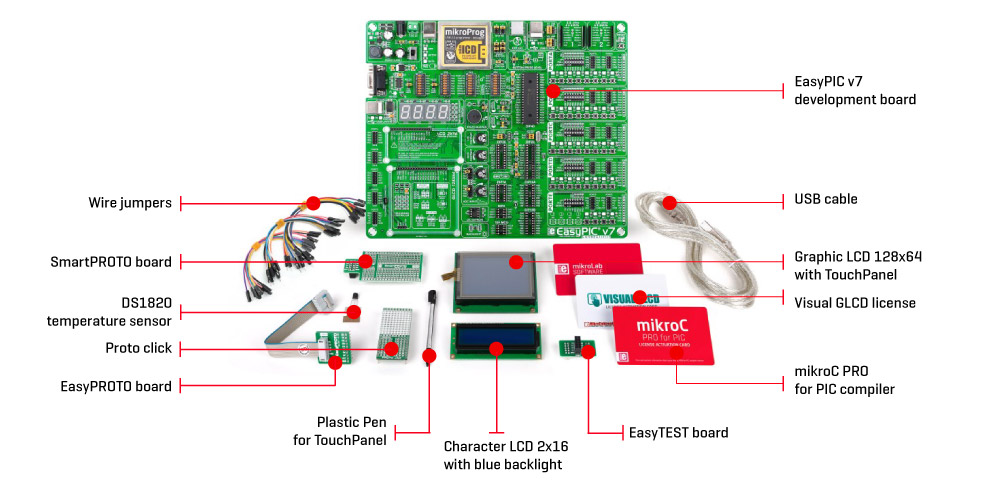 As you can see, we decided to present the mikroLAB for PIC. It's the essential toolkit for 8-bit PIC development. The EasyPIC v7 development board is our most popular board for a good reason - it supports over 380 microcontrollers, features a fast USB 2.0 programmer and debugger and two mikroBUS™ sockets.
You'll also get a PIC compiler of your choice. As you know, we offer three programming languages: mikroC, mikroBasic, and mikroPascal. Along with that another piece of great software - Visual GLCD, so you can create graphical user interfaces for graphic LCDs.
Inside the package, you'll find a Graphic LCD 128x64 with a touch panel and character LCD 2x16 with blue backlight. The mikroLAB for PIC also contains a plastic pen for touch panels, a temperature sensor, wire jumpers, one Click board™ and more. We thought of everything. All you need to do is open the box, and start a new project.
Seven different architectures to choose from - 15 mikroLAB kits
We offer 15 different mikroLAB kits, for seven architectures.
Let's say you have been working with PIC for a long time now, and you want to switch to AVR. Get the mikroLAB for AVR. The EasyAVR v7 inside it supports a total of 64 AT, ATmega, and ATtiny MCUs.
Thanks to mikroSDK, our software development kit, switching between architectures has never been easier. MikroSDK makes your code portable and reusable on many different platforms and architecture. To add a new platform all you need to do is write a new board definition file.
For more information about mikroSDK, visit the official page. There you'll find the user manual, white paper, and introductory video.
Quickly create, compile and run your project
When it comes to the most obvious value of a mikroLAB kit, it's the ability to quickly get from idea to final product. Since everything you need is in the box, all you need is a good idea and some testing. We like to know that we saved you time, and the mikroLAB kits are designed that way. Even the package reflects that philosophy - it all fit perfectly together.
ARM, AVR, 8051, FT90x, dsPIC, PIC32 or PIC - choose whatever works for you and start.
Adding Click™ boards
To add other functionalities to your project, choose anything from our Click™ board range. We have everything from temperature sensors and motor control to GPS, GSM and WiFi Click boards™.
Did you know that we have a Click board™ that can detect thunder or one that measures the level of alcohol? We even have a Click board™ that detects earthquakes.
Each seventh generation development board inside the mikroLAB kits has mikroBUS™ sockets. All you need to do is plug a Click board™ in and start programming.
Unboxing the mikroLAB for PIC XL
For more information about each mikroLAB kit visit the category and the product pages.
Yours sincerely,
MikroElektronika