The importance of a programming/debugging device receiving a software update rests on its role as a catalyst for progress. As developers embrace updates, they fortify their capabilities and contribute to an ecosystem where the art and science of programming continue to evolve, adapt, and thrive.
In a significant leap forward in the realm of programming and debugging, the highly anticipated software update for the CODEGRIP device has been unveiled. This update offers increased speed and support for an expanded range of PIC microcontrollers, with a particular focus on WiFi debugging.
UPDATE INFO
1. Speed Enhancements for Programming and Debug Processes
In a move to significantly accelerate development workflows, CODEGRIP has made critical programming speed improvements, which are going to allow developers to spend less time waiting and more time innovating.
The following debugging operations have been turbocharged: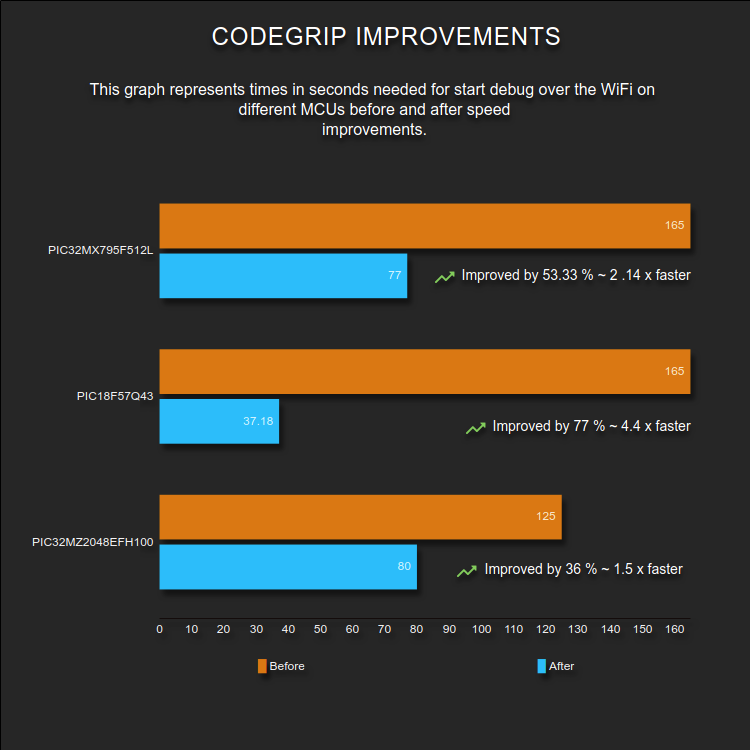 Start Debug: 4.5 times faster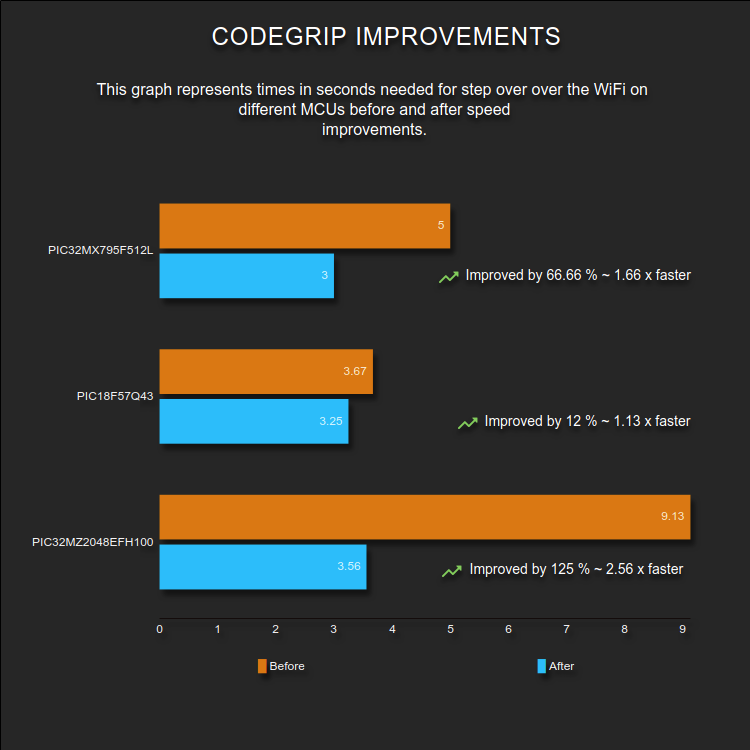 Step Over: 2.5 times faster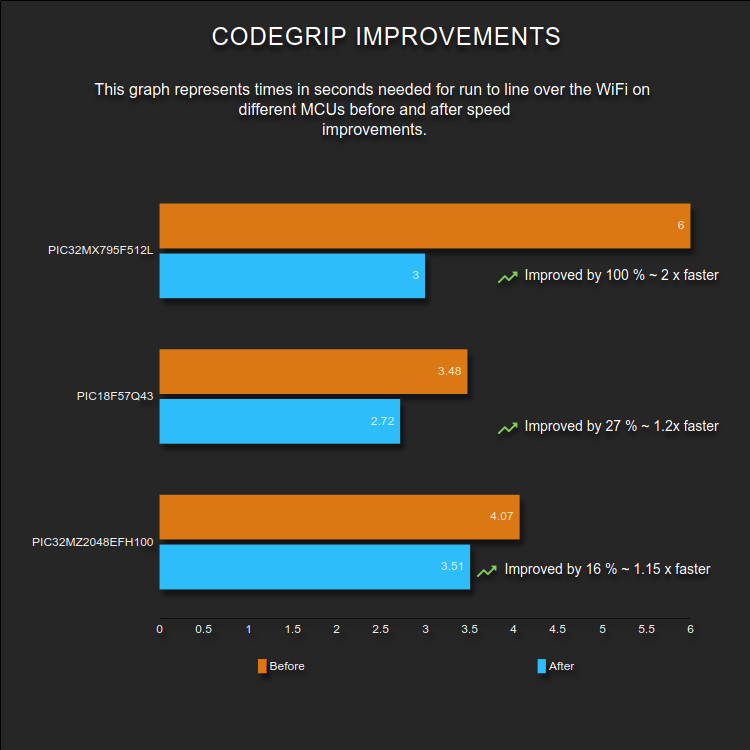 Run to Line: 2 times faster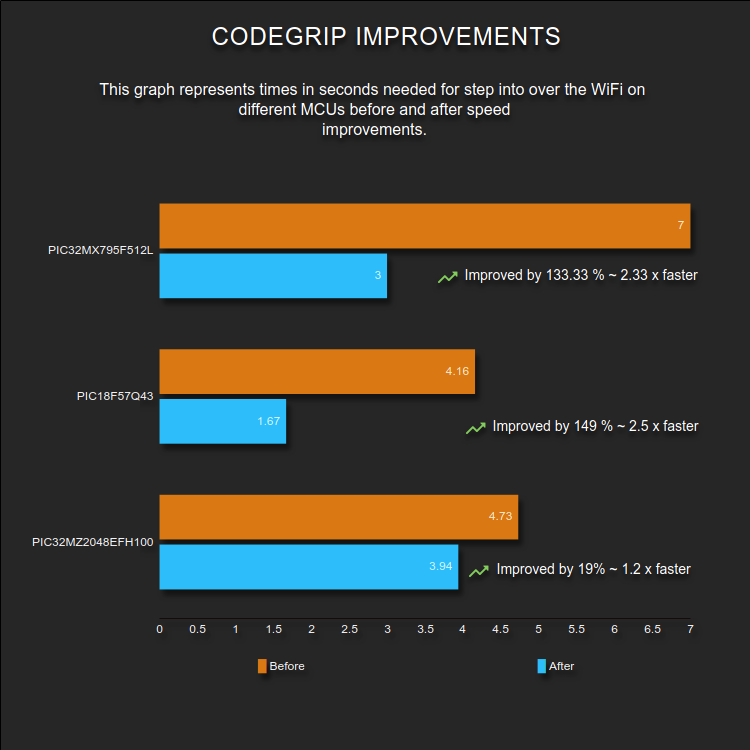 Step Into: 2.5 times faster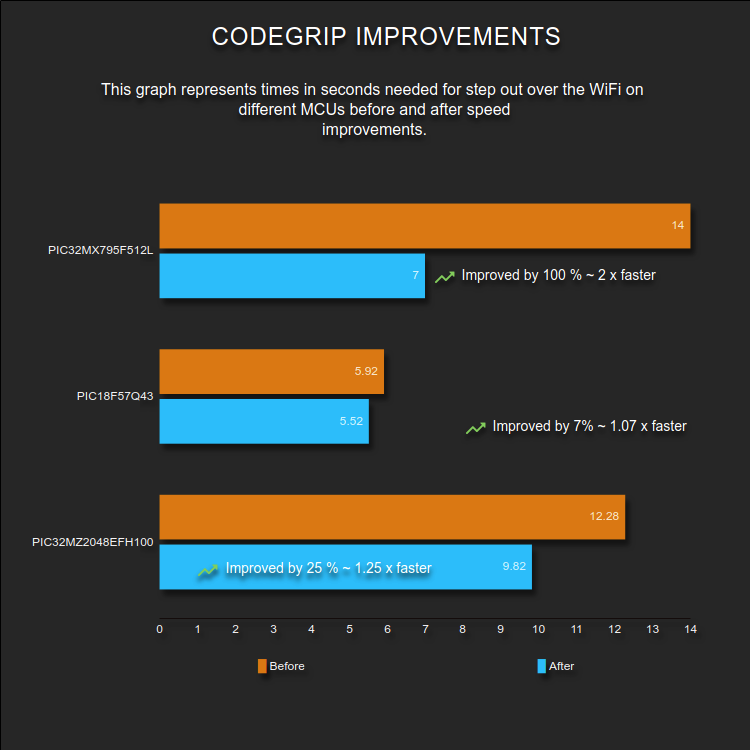 Step Out: 2 times faster

These speed enhancements are especially significant for WiFi debugging, where latency has been reduced, leading to more efficient remote development.
CODEGRIP has targeted speed improvements for multiple families of PIC microcontrollers:
Note: The presented results are the outcome of WiFi testing conducted through the PlanetDebug infrastructure at a remote location.
2. Extended Debug Support
A significant aspect of this update is the addition of debug support for a broad spectrum of PIC microcontrollers, expanding the capabilities of CODEGRIP's suite of tools. The newly supported devices include:
PIC18F Series:
2455
4455
4553
4682
25K80
66K22
65K90
18LF46K80
2458
2680
4620
4685
26K80
87K90
85K90
18LF25K80
2550
2682
4515
87K22
86K90
18LF45K80
67K90
2553
2685
4550
4680
86K22
67K22
66K90
2585
4458
45K80
46K80
85K22
65K22
18LF26K80
This addition of debug support demonstrates CODEGRIP's ongoing commitment to meeting the varied needs of embedded developers.
Final Judgement
These remarkable improvements to CODEGRIP's suite of tools mark a major stride forward in embedded development. The significant speed boosts, especially in the area of WiFi debugging and expanded support for PIC microcontrollers, translate to a more agile and responsive development experience.

Developers working with PIC microcontrollers will greatly benefit from these enhancements, and the update solidifies CODEGRIP's reputation as an industry leader committed to delivering state-of-the-art solutions.
SEE IT FOR YOURSELF
We remind you that the CODEGRIP Suite is an integral part of the NECTO Studio; an IDE which is completely free for non-commercial use, and you can download it for Windows, MacOS, and Linux at the official NECTO Studio page.