Artificial intelligence has already become a part of our everyday life. We have smartphones in our pockets that make recommendations on everything: from the routes we take, movies we watch to the clothes we buy. We are witnessing autonomous vehicles on our roads, robots
in our factories, and intelligent personal assistants on our laptops. In today's world, where everything is moving faster, time is everything. Time from product development to market is shorter than ever before. It is the same in the embedded industry.
SAVE YOUR TIME

We wanted to solve one of the biggest embedded developer challenges: a constant seeking for a piece of valuable information about an MCU you are working on. You could catch yourself asking those questions:
How to set the UART baud rate?
How to enable DMA?
What bit do I need to set to enable the timer interrupt?
All that information is available but fed into a specific manufacturer's datasheet with thousands of pages. So, you need to find that particular datasheet on the internet using your web browser, search through the whole document to find that info, and return to your project. No small task by any means, especially time-wise.
NECTO AI Assistant

We present you with NECTO AI Assistant - the world's first AI-powered question-and-answering system integrated into an embedded IDE. It has been trained on data from NECTO Studio help, mikroSDK, and click boards, but most importantly, it has been trained on data from hundreds of different MCU datasheets, covering different vendors and architectures from 8bit to 32bit. And that's not all. NECTO AI assistant figures out what MCU you use in your project, so it optimizes the search only for that specific datasheet, delivering the most precise information.
How does it work?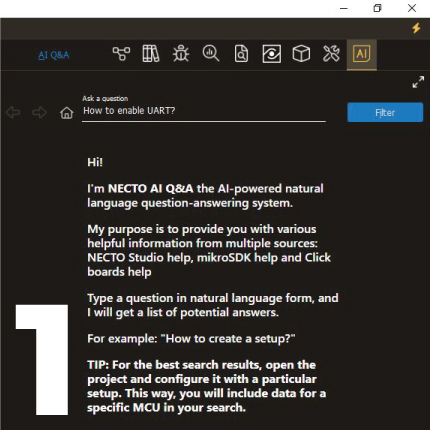 STEP 1
Open any project configured with desired MCU, go to an AI panel, and ask anything in natural language form (for example: "How to enable the UART?")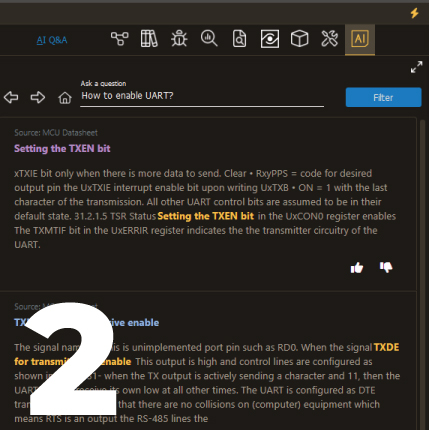 STEP 2
NECTO AI Assistant will do an extensive search and give you the list of the most relevant answers. Note that search results are related to the MCU selected in your project.

Check out our short video to see it in live-action:

Download NECTO Studio now and let the power of AI help you in your embedded journey.


Your MIKROE