For press inquiries and for requesting product samples for reviewing purposes, write to: marcom@mikroe.com
Include name of publication
Include story or review pitch
Include exact list of products required
MikroElektronika D.O.O.
Batajnički drum 23
11186 Zemun, Belgrade
Address Code: 201063 Serbia
Office phone: + 381 11 78 57 600 (9 AM- 5:30 PM CET)
Company information in different lengths, depending on whether you need brevity or detail.
Founded: 2001
Headquarters: Belgrade, Serbia
CEO: Nebojša Matić (Owner and General Manager)
Products: Microcontroller Development Systems, Accessory Boards, Compilers
Number of employees: ~100
Website: www.mikroe.com
Our team is a mix of savvy business professionals with top-notch academic credentials, self-taught embedded hardware wizards, engineers with entrepreneurial backgrounds, and fresh out of college rising stars. Meet our management:
Engineer & Entrepreneur, Nebojsa started the company as an electronics magazine soon after getting a Master's degree in electronic engineering from the Faculty of Technical sciences in in Novi Sad.
Djordje Marinkovic built his career in Europe, working for Hilti AG, Lexmark, Siemens, and finally, with Texas Instruments where he reached the positions of Business Development Manager and University Program Manager. As Chief Development Officer at MikroElektronika, Djordje brought a new level of international business expertise to the company. This helped MikroElektronika earn the trust of prominent semiconductor vendors such as NXP, Infineon, and many more. Some of the most impactful company projects emerged from these relationships — including the award winning IoT dev kit Hexiwear.
Tanja is responsible for defining, implementing and supervising business processes, policies, guidelines and procedures that ensure that MikroElektronika can adapt to its own growth. Under Tanja's management MikroElektronika introduced quality management systems, as well as security, environmental, and safety standards as defined by various ISO standards. Her background is in high-profile Sales management, including handling of corporate and government accounts at one point in her career.
Srdjan joined MikroElektronika in its early days as a software engineer. He worked his way up to senior status, rising to assume project management roles. Soon promoted to head of hardware and procurement, Srdjan was the project lead for Hexiwear, the IoT dev kit.
Ivan Rajkovic arrived to MikroElektronika fresh off university (School of Electrical Engineering, ETF for its acronym in Serbian). In four years, he was promoted as chief of the newly formed software department. In this role, he was the project lead in developing and releasing MikroElektronika's first compilers. Ivan is now leading one of MikroE's largest and fastest growing departments.
Working in various management roles in the semiconductor industry throughout his career (engineering, product, marketing and sales management roles in companies in Italy, Austria and California) Andrea's diverse experience allows him to leverage MikroElektronika's engineering assets in a way that maximizes the value the company brings to the constantly evolving embedded systems market.
Certifications and awards
Hexiwear
ARM TechCon Innovation challenge 2016
Best IoT product
Best in show
Reader's choice
Hexiwear
ECN Magazine
ECN Impact Award 2016
Hexiwear
Hackster Maker Madness 2016
Voted best for rapid prototyping
EasyPIC Fusion v7
Embedded World 2013 Nuremberg
Nominated for best tool
Domestic awards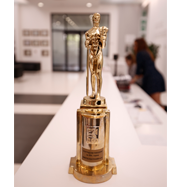 Belgrade chamber of commerce
Belgrade chamber of commerce
Accolades to Nebojsa Matic, founder and CEO
Entrepreneur of the year in 2012 awarded by Blic, prominent daily newspaper in Serbia, 2013
MikroElektronika has registered the following trademarks protecting brand names and logos (more information can be seen in the Worldwide Intellectual Property Organization's index):
Logo usage guidelines:
To ensure maximum visibility and integrity, the MikroElektronika logos should always appear with space around them. This area of isolation ensures that all graphic elements or type are separated from the logo by a designated amount of space to maintain the integrity of the logo. The MikroElektronika signature must always be surrounded on all four sides by a clear space of at least 1cm. This is the minimum distance to place any other graphic element or type to ensure readability