Book Overview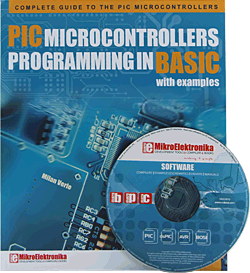 This book will help you learn more about programming PIC microcontrollers in BASIC with practical, common-sense instructions, real projects, clear illustrations and detailed schematics. Learn how to set up all necessary hardware and software, read A/D converter inputs, work with I/O signals, interface with peripherals and test your results. Here you will find all you need to know about the process of designing and building PIC-based devices.
Title: PIC Microcontrollers - Programming in Basic
Author: Milan Verle
Number of pages: 346
Publisher: mikroElektronika; 1st edition (2010)
Language: English
ISBN-13: 978-86-84417-18-5
Paperback Color: Full Color
Covers Color: Full Color
Note: The book that you can order is written in English language!

Table of Contents
This book is available for browsing and reading online, absolutely free of charge. To read book free online follow next links:
Disclaimer
The content published in mikroElektronika's online books is subject to copyright and must not be reproduced in any form without an explicit written permission released from the editorial of mikroElektronika. The book was prepared with due care and attention, however the publisher doesn't accept any responsibility neither for the exactness of the information published therein, nor for any consequences of its application.