Book Overview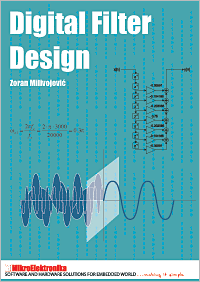 The purpose of this book is to provide you with different theorethical and practical approaches to digital filter design. The book covers design of both finite and infinite impulse response filters. In addition, it applies the most popular and most commonly used design methodes giving the best solutions. Intuitive explanations and numerous examples contained herein will help you to devolope your understanding of these methods and test your knowledge on concrete issues.
Title: Digital Filter Design
Author: Zoran Milivojević

Table of Contents
This book is available for browsing and reading online, absolutely free of charge. To read book free online follow next links:
Disclaimer
The content published in mikroElektronika's online books is subject to copyright and must not be reproduced in any form without an explicit written permission released from the editorial of mikroElektronika. The book was prepared with due care and attention, however the publisher doesn't accept any responsibility neither for the exactness of the information published therein, nor for any consequences of its application.